By Omeiza Ajayi
ABUJA – Youths numbering about 50 Monday Abuja took their protest to the national secretariat of the ruling All Progressives Congress APC, demanding the removal of its National Chairman, Chief John Odigie-Oyegun.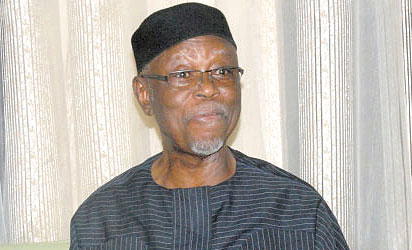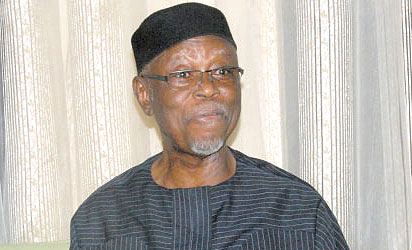 The youths, under the aegis of Save APC and Democracy Youth Vanguard also demanded for an audit of the APC account while kicking against the party's decision to convene a "non-elective" national convention.
The protest came hours to the party's National Executive Committee meeting, which is expected to be attended by President Muhammadu Buhari.
It would be recalled that the APC Youth Solidarity Network in a 'Position Paper' it sent to the NEC and Caucus had earlier accused some vested interests of trying to remove Chief Oyegun in order to install their stooges ahead of the 2019 general elections.
"There have been alleged schemes to remove the Party's National Chairman from office because of his perceived loyalty to Mr. President. The alleged plot is aimed at achieving sinister political ends in the lead up to the 2019 General Elections. If the plan succeeds it will allow the sponsors install their stooges and hijack the party in the lead up to the election. This is a red flag that the president must take seriously and thwart", the APC youth group had warned.
However, speaking with journalists, leader of the protesters, Peter Oyewole said; "Since 2015, the budget of APC has not been made public. Since 2015, the ruling party has not hold a single meeting. These are enough to remove the National Chairman. We demand the removal of Oyegun now.
"We are also saying enough is enough to imposition of candidates at all levels by Oyegun led NWC tnat is currently going on in this party, because in any party where there is imposition there cannot be fairness".
He said if the chairman was not removed within one month, the protesters would picket the secretariat and chase away everyone including the security personnel.
"If Odigie-Oyegun is not removed within the next one month, the APC youths will picket this national secretariat and make it a no-go area to everybody; both staff, the officials and even the security staff will be chased out of the secretariat and none of them will be allowed to come in here."
The post APC youths demand Oyegun's removal appeared first on Vanguard News.
Powered by WPeMatico