By Dirisu Yakubu
ABUJA- Former Minister of Aviation and chieftain of the Peoples Democratic Party (PDP), Chief Femi Fani-Kayode has lauded the decision of President Muhammadu Buhari to sack his erstwhile Secretary to the Government of the Federation (SGF), David Babachir Lawal, describing it as "good riddance."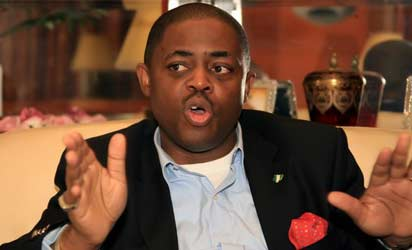 The former Minister known for his consistent criticism of the Buhari-led government berated the ex-SGF for not doing enough in his service to the nation as a chief scribe, even as he described his replacement, "A better man."
He said: "Babachir Lawal went out of his way to destroy the church in order to assist. … evil Islamist agenda. His being sacked is good riddance to bad rubbish. He was so desperate to please his master that he even tried to impose a pro-Buhari leadership on the Christian Association of Nigerian, CAN. Now he is out.
"His successor, Boss Mustapha is a better man and he has far more gravitas and integrity."
He was however sympathetic to the plight of Ayo Oke, the fallen ex Director General of the Nigerian Intelligence Agency, NIA, saying he was a mere victim of circumstance.
"I warned him about these people," Fani- Kayode continued, adding that "They used him and dumped him. He was just a scapegoat and the fall guy in a plot that was far bigger than him."
The post Fani-Kayode hails Babachir's sack appeared first on Vanguard News.
Powered by WPeMatico