By Chris Ochayi
ABUJA – The Managing Director of Abuja Electricity Distribution Company, AEDC, Engr. Ernest Mupwaya disclosed, weekend that the company has spent N6.5 billion improving infrastructures in its coverage area in the last four years.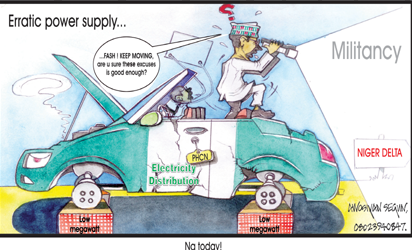 AEDC is among the 11 power supply firms privatised in November 1st 2013, by the immediate past administration of former President Goodluck Jonathan.
Engr. Mupwaya, who disclosed this at a workshop organised for energy correspondents in Abuja, added that the distribution company has also reduced its Aggregate Technical Commercial and Collection, ATC&C, losses to 48 per cent while ranking first on energy payments to the Generation Companies, GENCOs, for over one year.
The breakdown of the N6.5bn spent according to Engr. Mupwaya, include N900 million for the replacement of over 374 faulty transformers, procurement of 145 vehicles to ease logistic issues and bush clearing of over 11,400 kilometre power lines to check avoidable power outages in its franchise area.
He said the Abuja DISCO's network at present, spanning the states of Kogi, Abuja, Nasarawa and Niger have been upgraded to 870 megawatts (mw) capacity which the management said is higher than the 650mw highest electricity is has ever received from the national grid.
According to him, "We have maintained 8,138 distribution substation transformers since 2016 out of the 12,000 units we have. We are maintaining about 60 to 90 every day and we have a target to reach the 12,000 by the end of this year when we will start a fresh cycle again."
Mupwaya noted further that although its electricity customers may not see any impact yet but when the second cycle of maintenance is reached, there is bound to be visible and stable electricity supply across places.
Determined to ease liquidity constraint in the power sector,he explained the DISCO has invested hugely in enhancing its revenue collection system with the new U-Vision worth $345,556 which will help customers to trace history of their payments.
He said a newer platform worth N400m will begin operation this week and is expected to enhance the monitoring of its field staff to check their energy bill delivery to customers, debtors' disconnection and other services.
He said, "It will raise our revenue collection and will help to improve power supply to our customers because we will have more funds to buy transformers, install meters and enhance our services."
Mupwaya, who expressed disappointment over the huge loss suffered by the firm to activities of vandals and energy thefts called for attitudinal change on the path of the electrcity customers who indulged in bypassing the meters.
He warned that, henceforth, any customer caught bypassing the meter would be charged to court and subsequently send to prison to serve as deterrent to others.
The post Privatisation: We spent N6.5bn improving power infrastructure in four years – AEDC appeared first on Vanguard News.
Powered by WPeMatico