By Onozure Dania
LAGOS—A Lagos State High Court sitting in Igbosere yesterday heard how the collapsed Lekki Gardens building which claimed the lives of 30 people had no official building permit.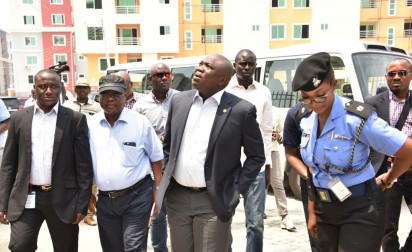 Revealing this, Maruis Agwu, prosecution witness in the ongoing trial of the Managing Director of Lekki Gardens Estate Ltd Richard Nyong, told the court  that the five storey building of two bedroom flats, known as Horizon located at Elegushi that collapsed on March 8, 2016, had no building approval.
Agwu an Architect who was being led in evidence by the Director of Public Prosecution DPP, Ms Titilayo Shitta-Bey, said that the initial plan of the building was three storey building, but that Nyong later told him of his intention to increase the building to five floors because of the high demand of subscribers.
Nyong is standing trial alongside Lekki Gardens Estate Limited and Get Rich Investment Limited known as Horizon 1 Extension, House H15, Mr Sola Olumofe; the firm's contractor, Odofin Henry Taiwo; Omolabake Mortunde, Omotilewa Oluwatosin Joseph, Lekki Gardens, and HC Insight Solution Limited.
They were arraigned on a six count charge bordering on failure to obtain building approval for the collapsed building and involuntary manslaughter, where they pleaded not guilty.
Agwu who was testifying before Justice Sybil Nwaka said that when he discovered the defect on the collapsed building which was brought to their notice by one Madam Omolabake Mortunde, he drew the Lekki Gardens Managing Director's attention to it and he said he was going to do something about it but he never did.
However, while being cross examined by the counsel to the first, sixth and seventh defendants Wole Olanipekun SAN, the witness admitted that he was not a registered architect, he also said that he did not sign nor seal the design of the collapsed building, but that the company did not direct him to sign nor seal the design.
While being cross examined he admitted to have been a sixth defendant between May 24 and June 14, 2017, when they were first brought to court.
The case was adjourned till December 14, for continuation of cross examination.
The post Collapsed Lekki Gardens building had no approval – court witness appeared first on Vanguard News.
Powered by WPeMatico