… as fans call for her to join 2020 US Presidential race
By Josephine Agbonkhese
Golden Globes 2018 will forever go down memory lane as a platform for genuine advocacy for women's rights and social justice, thanks to Opray Winfrey.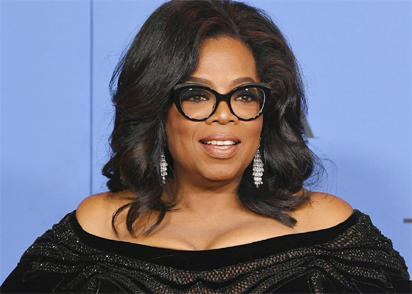 At the annual event held Sunday in Los Angeles, the entertainment mogul and TV Host, who got honoured with the Cecil B DeMille Lifetime Achievement Award, making her the first black woman to ever clinch that award in the 75 years of Golden Globes' debut, took an unabashed stand against the age-long sexual assault of women, social injustice and racial discrimination in a speech that immediately saw women in Hollywood urging her to run for US President in 2020.
Winfrey who practically brought the Golden Globes audience to tears as she cried out against sexual violence, said:  "I want to express gratitude to all the women who have endured years of abuse and assault because they, like my mother, had children to feed and bills to pay and dreams to pursue.  They're the women whose names we'll never know. They are domestic workers and farm workers. They are working in factories and they work in restaurants and they're in academia, engineering, medicine, and science. They're part of the world of tech and politics and business. They're our athletes in the Olympics and they're our soldiers in the military."
Winfrey spoke passionately about the importance of speaking out, a major milestone for women which characterized 2017; not just in America against sexual harassment but also in Nigeria in which the likes of the wife of the President, Hajia Aisha Buhari; the Minister for Women Affairs, Aisha Jumai Alhassan; and Ms Winifred Oyo-Ita, Head of Service at the Federal Civil Service Commission, spoke out fearlessly at different times.
Winfrey said: "What I know for sure is that speaking your truth is the most powerful tool we all have… And I'm especially proud and inspired by all the women who have felt strong enough and empowered enough to speak up… For too long, women have not been heard or believed if they dare speak the truth to the power of those men…"
By the end of her speech, the Winfrey had blended her rags-to-wealth-and-fame story into exhortations of press freedom, justice for sexual assault victims, and the contributions and sacrifices of maids, farm workers and others, saying to girls all around the world: "…I want all the girls watching here, now, to know that a new day is on the horizon!"
The post How Oprah Winfrey transformed Golden Globes into a night of advocacy for women appeared first on Vanguard News.
Powered by WPeMatico