By Rotimi Ojomoyela
Ado-Ekiti—Governor Ayodele Fayose of Ekiti State has raised the alarm that some Fulani herdsmen have started a surreptitious move into the outskirts of Ekiti with an alleged aim to kill and maim people.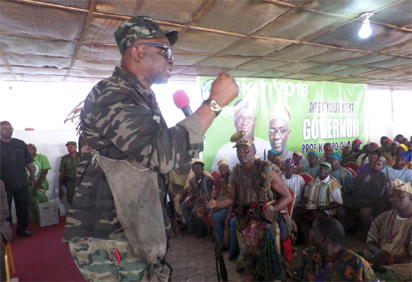 Fayose, who said the move was targeted at rubbishing his anti-grazing law, said the invaders would be met with stiff resistance from the people of the state.
The governor said this, yesterday, when he met with local hunters from 16 local government areas of  the state.
He therefore charged them to secure the state even as he promised to support them in the exercise.
Fayose, who was decked in full military camouflage at the meeting, urged President Muhammadu Buhari to urgently declare rampaging herdsmen as terrorists.
Calling on the President to declare herdsmen terrorists, he said: "Mr. President, declare herdsmen as a terrorist group now, they are mindless and devilish."
The governor, who equally hosted Benue indigenes residing in Ekiti, expressed his sympathy for them.
"I sympathise with our brothers, sisters and people from Benue State that  are mourning the brutality of those who killed their kinsmen", he said.
The governor, who observed a minute silence for the dead in Benue, said: "This (uniform dressing) is done to charge our hunters to secure the state. I saw pictures of the killings and I wondered if those were human beings. I asked the questions if people could kill human beings that way. They will find no peace. This is no tribal killing but that of mindless people. Blood of the departed will find those people and they won't know peace. It is the duty of the federal government to protect its people. We are not protected.
"We have never had it so bad. People must come to leadership with conscience. The Federal Government should have sent the army not the police. Governor Ortom should fasten his belt and protect his people. Those seeking for help in Abuja would not find it because Abuja also needs help. I sympathise with you, this is your home and nobody would kill you. You are all safe here."
Charging the hunters, who were excited to meet him, governor Fayose said: " I have received letters that the Bororos have entered our reserves they want to violate our laws. I want to call on the attention of the federal government that they have come and wanted to kill men, kids and women in Ekiti. We will not allow that to happen. I want you hunters to go back to protect your people, be vigilant, and ensure everyone entering our state is screened."
"No one in the guise of grazing should enter our land after 8pm. For our brothers who harbour criminals, tell them Ekiti is a no go area. If your plan is to make this state ungovernable you are wasting your time. I have called this meeting for everyone to be vigilant. I will begin to support you now to secure Ekiti."
He, however, warned the hunters not to take "laws into your hands but defend our people."
The post Fayose charges hunters to secure Ekiti appeared first on Vanguard News.
Powered by WPeMatico