By Demola Akinyemi
ILORIN—Scores of students of Kwara State Polytechnic, Ilorin, yesterday, staged a peaceful rally to express their appreciation to the Senate President, Dr. Bukola Saraki, for his intervention which led to a reduction of about N19,000 from their tuition fees.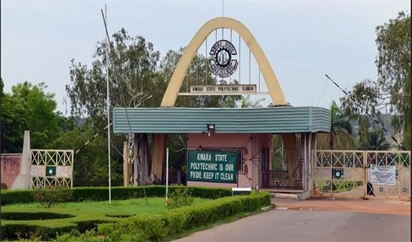 The students equally thanked Governor Abdulfatah Ahmed, and Speaker of the state House of Assembly, Dr. Ali Ahmad, for heeding the advice of the Senate President on the need for the downward review of the fees.
They praised the duo for setting up the joint executive-legislative committee, which recommended a reduction in the fees payable by returning and fresh students of the institution.
The elated students carried placards with inscriptions such as "We are proud of Bukola Saraki," "The poor also deserves affordable education," "Thank you ABS," "We are grateful to ABS," among others.
Speaking with journalists during the event, Vice President of the National Association of Polytechnic Students, NAPS, Mr. Olugbode Damola, however, advised all students to make full payment of their school fees before the end of this month.
The students' leader, who also urged the students to maintain peaceful and mutual co-existence, added that such attitude would sustain uninterrupted academic activities in the school.
He described the intervention of the Senate President in their struggle to achieve a reduced tuition fees as unforgettable, adding "a big thank you to Governor Abdulfatah Ahmed and all members of his cabinet, whose input further contributed to quick resolution of the matter."
The post Kwara Poly students hail Saraki, Ahmed over fees slash appeared first on Vanguard News.
Powered by WPeMatico