By Chinenyeh Ozor
Some traders, yesterday, recounted how they lost all they had laboured for over the years to a midnight fire outbreak at Nsukka Industrial Market, Enugu State, that razed goods worth over N50 million and six cars.
Vanguard gathered that the fire started around 5a.m. on Tuesday, burnt two automobile electrical shops and two motor mechanics shops to ashes before the intervention of fire service men.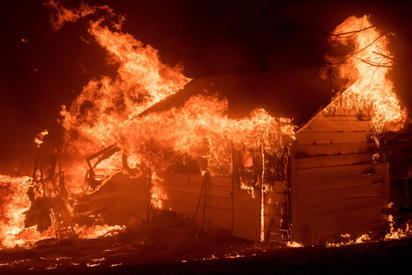 Investigations revealed that nobody at the market could give account of how the fire started, as there had been power outage at the market for over two weeks.
Market head speaks
The chairman of the market, Chief Silas Eze, said: "Nobody was around to say exactly what happened. We were contacted on phone over the incident.
"What was lost to the fire incident is not less than N50 million. Six cars, three big power generating plants, deep freezer, batteries among others outside the building.
"We are appealing to Enugu State Emergency Management Agency, ESEMA, to provide relief materials to the victims of the fire."
Victims' stories
One of the affected shop owners, an emotional automobile electrician, Mr. Christopher Ozulu, said he lost all his life savings and what he has laboured for over 30 years.
Another victim, Mr. Isiogu Nwabueze, said five Mercedes Benz cars parked for repairs at his shop were burnt beyond recognition together with two Tokunbo motor engines among other items.
His words: "What pained me most are my customers' vehicles that were burnt to ashes. How do I go about it? If they asked me to give them their cars what do I do?
"The cost of the five Mercedes Benz should be close to N3 million. Where will I raise that kind of cash?"
Another mechanic, Onyeka Ugwu, said he lost two engine gears of his customers, shafts and other numerous items to the inferno.
Mr. Ugwuanyi Nnaemeka, another automobile electrician, said that one Golf 3, belonging to his customer, was consumed by the fire outbreak in the market, while every other thing in his shop was burnt to ashes.
The post Traders bemoan N50m goods, six cars burnt in Nsukka Industrial Market fire appeared first on Vanguard News.
Powered by WPeMatico