By Perez Brisibe
BORN into the royal family of Nwoko in Idumuje Ugboko, in December 1960, Ned Nwoko is a LLM maritime and commercial law graduate of the University of London.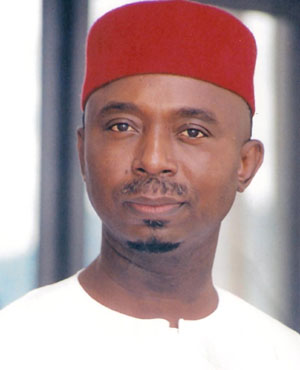 Having worked with two firms (Kumars Solicitors and Pascaldiers & Co Solicitors), before setting up his own firm in London, Ned Nwoko & Co-solicitors, like a goldfish with no hiding place, the Idumuje-Ugboko born prince was recognized as the best black lawyer in England in 1995.
Hungry to ensure that the people of his area enjoy the dividends of democracy, Ned returned to Nigeria to give them a qualitative representation at the National Assembly after they beckoned on him to represent them at the House of Representatives leading to his emergence as Member of the House in 1999.
As a legislator, his prowess as a fine lawyer strategically positioned him to become the leader of the Millennium Group in the House of Representatives. The group was made up of a body of legislators who came together to foster good legislative and executive relationship.
Towards his radical and progressive inclination to effectively represent his people, he was made a reference point by other Members of the House owing to his delivery of his legislative positions on lawmaking debates with insight and vision unparalleled amongst his peers.
According to Ned in one of his favorite quotes, "There is something I always say without fear in every gathering like this, if you don't do politics, politics would do you."
It is based on this fact that the immediate past chairman of the Nigeria Union of Journalist, NUJ, Delta State chapter, Norbert Chiazor, described him as a "man who plays politics of the people and never plays the buccaneer, shylock or the slave master."
Said Chiazor, "For Ned, integrity is everything. His heart is bare like the sky. He is as straight as ramrod. Not like Janus in Greek mythology with facial duplicity. The face of Ned is a mirror – open."
Understanding the impact of education as a prerequisite for development, Ned, in his capacity as member representing Aniocha/Oshimili Federal Constituency in 2000, organized a visit of the leaders of his constituency to Aso Rock for a meeting with then President Olusegun Obasanjo where the group demanded  the establishment of a Federal University of Agriculture in Asaba, the construction of Ewohimi/Idumuje-Ugboko/Onicha Ugbo link road, the completion of the Benin-Asaba dual carriageway, and the building of a dam in Aniofu, which was later sited in Ogwashi Uku.
It is edifying to note that years after that visit, the people of Anioma and other Nigerians who cross Anioma are still enjoying the benefits of that visit courtesy of their once upon a time House of Representative Member.
Though a lover of academics, 18years after, his dream for the establishment of the Federal University of Agriculture is yet to come to fruition, Ned not deterred by this, established an international standard private university, Star University aimed at academic and sports excellence in Idumuje Ugboko.
An accomplished writer and social commentator, Ned Nwoko has the following publications to his name: Ten articles in immigration law in the United Kingdom including; Advise on Arrest and Detention, Appeals procedure, Judicial Review and Deportation, Review of the provision of police and criminal evidence Act 1984; West Africa-20october 1995 and the legal base for political progress.
He has also authored the following books; Early Missionary Activities in Midwest of Nigeria (date of publication: 1991); You, The Police and Criminal Law Procedure- England & Wales (1991); NIGERIA: Time for all hands on deck- (1995).
In the countdown for the 2019 general elections, having tasted the legislative prowess of this former member of the House of Representatives, when juxtaposed with previous representations at the National Assembly, every indigene from Delta North would agree with me that having Nwoko as senator representing the district come 2019, is a sure bet for effective and quality legislative business.
The post Delta north needs Ned Nwoko at the Red Chamber appeared first on Vanguard News.
Powered by WPeMatico